Kerigolf is located in the middle of the Finland's most popular lake district. Savonlinna and the Opera Festival, the Olavinlinna Castle, Forest Museum Lusto and the world's largest wood church in Kerimäki are only 15 minutes away from the course.
Also next to the golf course is the the Kerimaa Holiday Centre, which offers a wide range of facilities and services. The Kerimaa Holiday Centre provides pleasant accommodation in individually-designed holiday cottages and hotel apartment blocks. Also nearby are Hotels Varpu in Kerimäki, Kruunupuisto and Punkaharju Lomakeskus in Punkaharju and Sport Spa Tanhuvaara. Accommodation and other mobile vacationer's activities are also available nearby in abundance.
The magnificent Kerigolf course is located in a varied forest landscape, which brings certain difficulties and variety into the play. The first-class services meet even the requirements of an experienced player. The golf course, famous for its natural beauty, is individually constructed in every detail . You will meet the symbol of Kerigolf – the bear – several times during your play round.
The 18-hole course is designed by the renowned golf course architect Ronald Fream. The field lies amidst the forest terrain, which in addition to the game can be enjoyed in peace and quiet and wonderful views. Height differences give the game variety and players will get a good physical exercise out of it.
A good quality restaurant /club café, pro shop, locker rooms and saunas are there for our customers to enjoy.
Get started in golfing with the guidance of our skilled PGA Golf Professional Tuomas Sistonen. The training areas are free to all interested to use. Throughout the summer we organize courses for both beginners and more experienced golfers. We offer special rates for beginners and new green card holders for a one month period after passing the green card test.
Registration to courses: clubhouse@kerigolf.fi or phone number +358 15 252 600.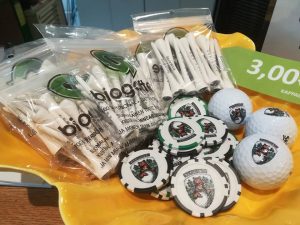 Prices:
Green fee for a normal period 55 €, green fee for high season 65 €.
Golf Car rental 40 €, rental clubs   2 €/club, whole bag 20 €.
Driving range token (36 balls) to range 3 €, 10x card for 25 €.
Reservations and inquiries, call +358 15 252 600. Welcome to enjoy Kerigolf!
Driving instructions: From Savonlinna on Highway 14 to Punkaharju for 12 km, take a left to Kerimäki and after 2,5 km follow signs to the course.